Apparently I am meant to live by my values, if only I knew what they were.
What's a value word? It's hard to think up on the spot. 
There are lists of suggested values on the internet. Staid concepts like honesty and harmony. Values most of us share but would struggle to rank if pressed to prioritise a top 5.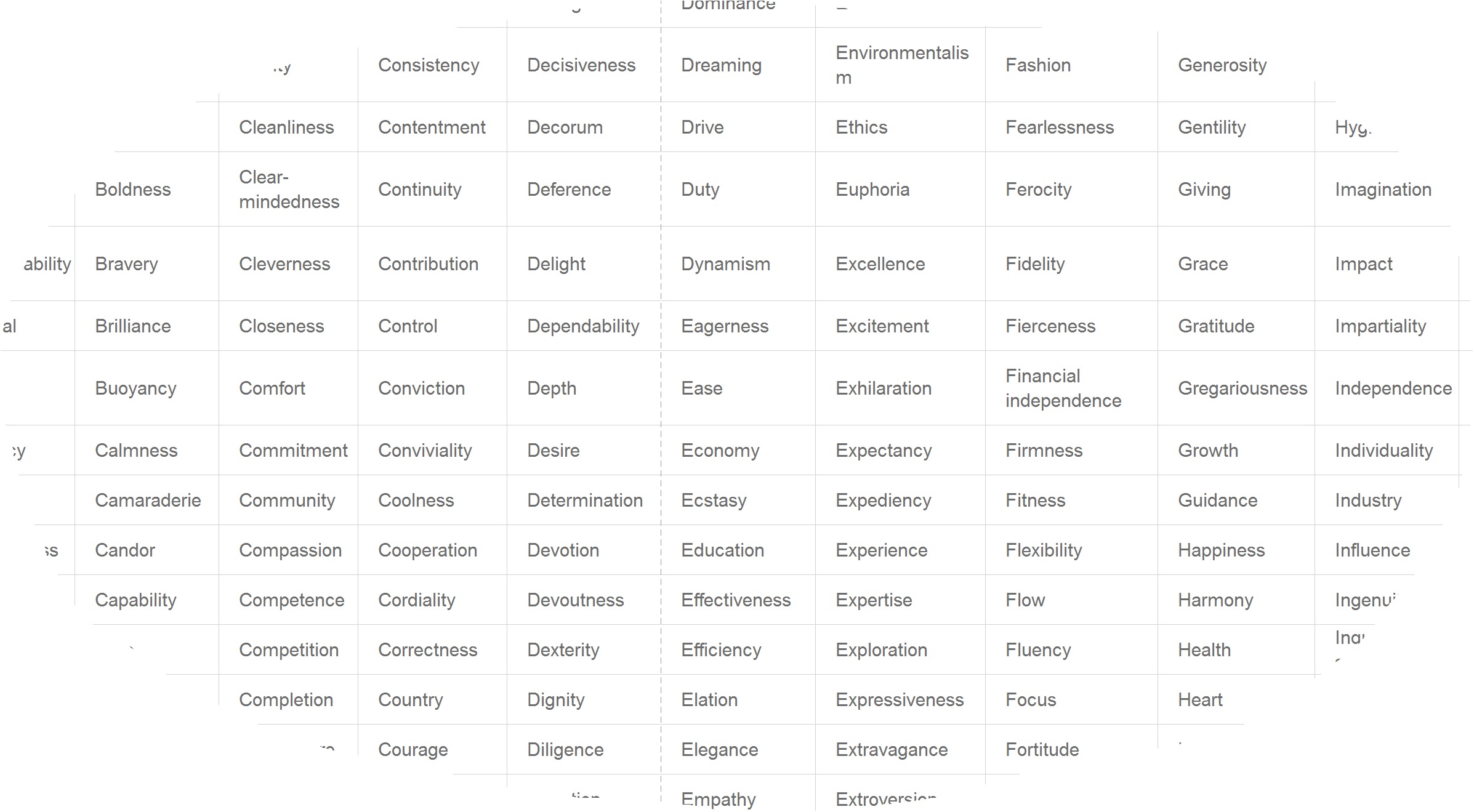 The list is a starting point, but what is missing? A while ago I met a corporate escapee turned jazz singer. She radiantly told me about now living her values, beauty and romance, which aren't always in the 'serious' lists. 
It's tempting to pick the values you 'should' have rather than listening to the ones which you really connect to.
Instead of being limited by the list, or struggling to come up with words off the top of my head, I decided to let my intuition guide me by creating a collage. 
The benefit of collage as medium is that I don't have to create the artwork myself. I can flick through magazines and wait until I find something that 'resonates'. I can choose phrases or pictures that say so much more about my complex values than simple words on a list. 
AIM
Discover my true values
MATERIALS
A variety of scrap magazines.
Scissors, glue and a piece of large paper.
METHOD
Set the intention to look for what resonates with your values.
Browse the magazines and notice your reaction.
If an image or piece of text resonates, check in with yourself – does this feel like a should or a true value?
Cut true value pieces and set aside (Optional: keep 'should' values for an alternative collage on the values that have been imposed on you)
Arrange cutouts on piece of paper and glue in place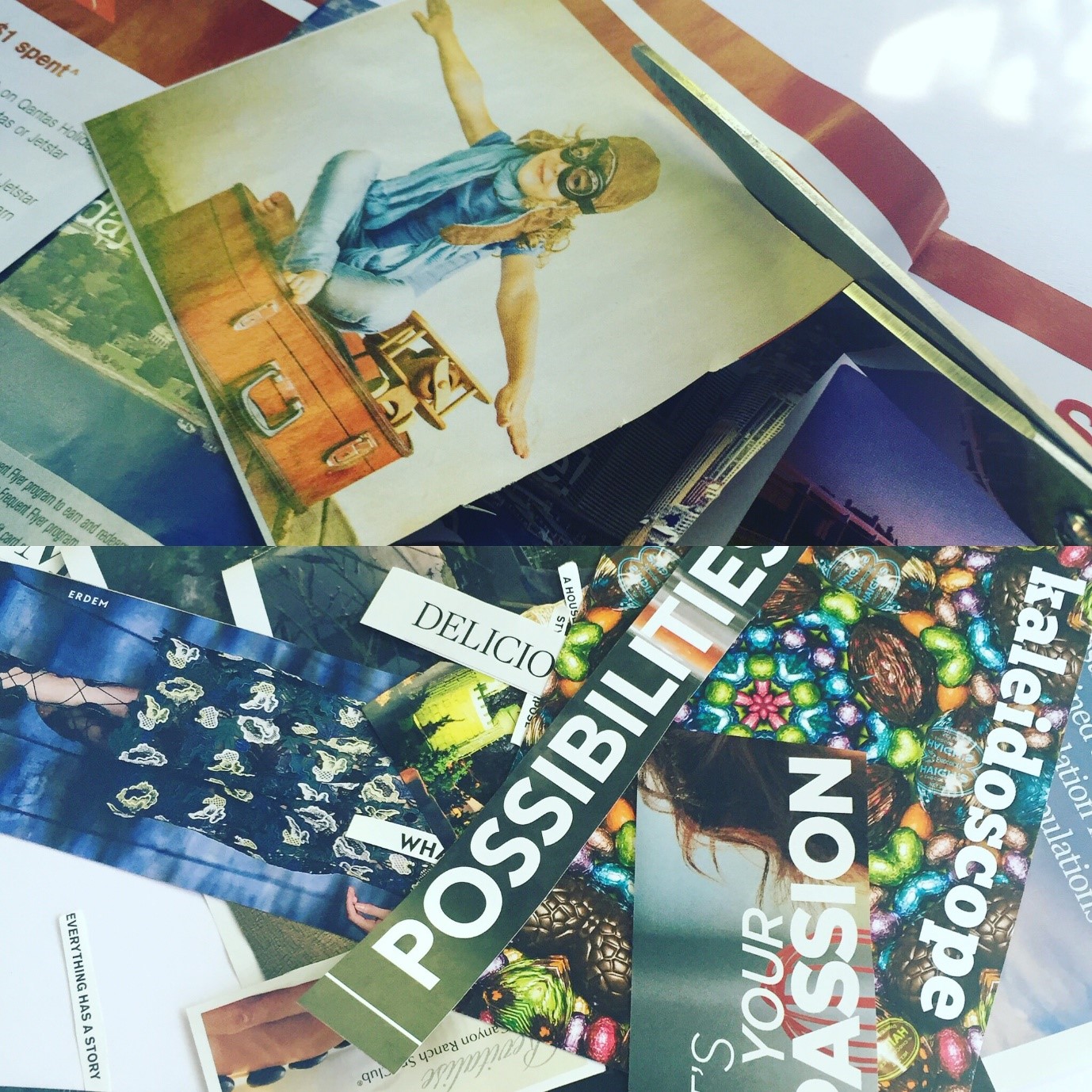 RESULTS
I stuck my values up on my whiteboard as a reminder.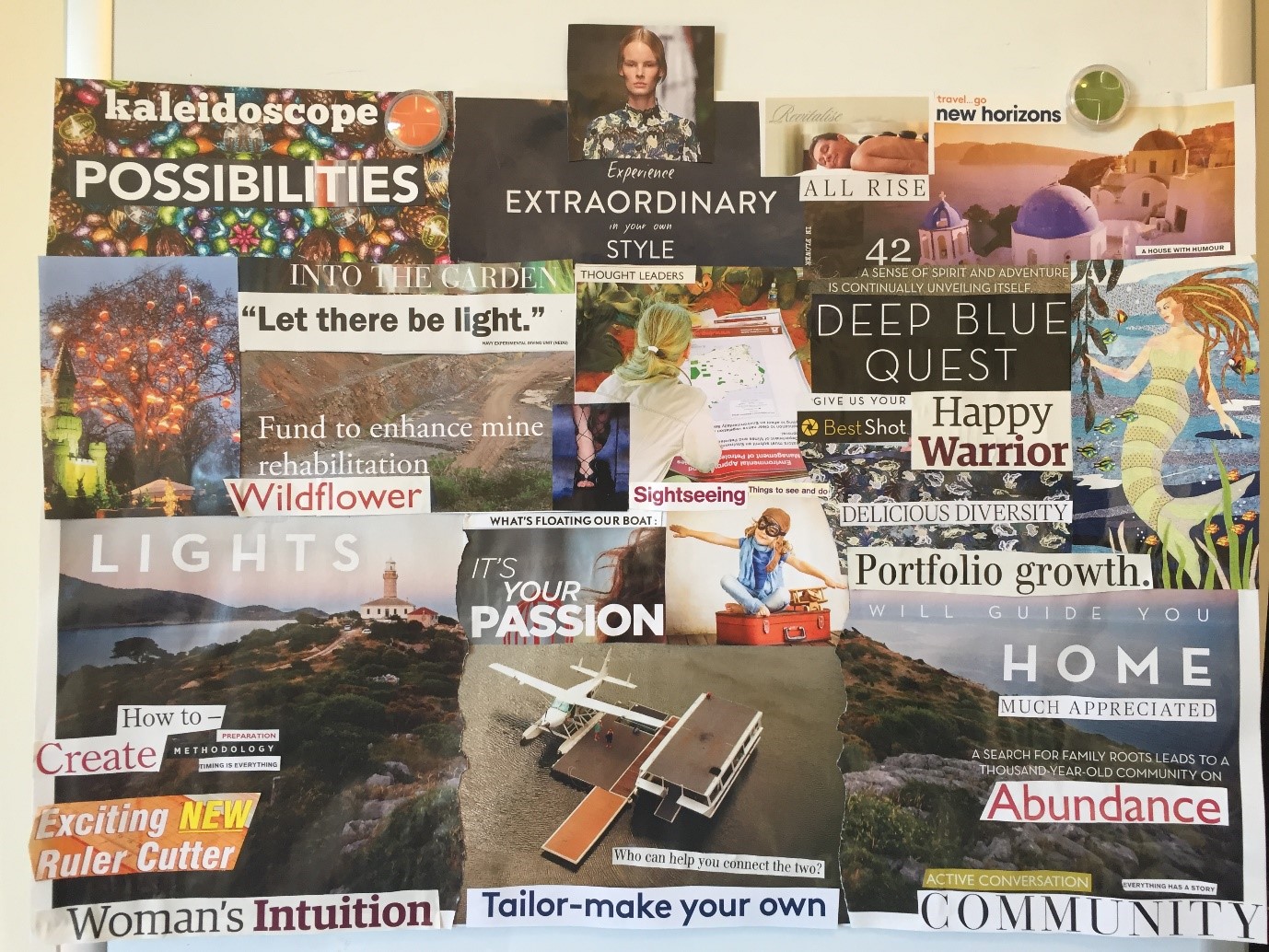 DISCUSSION
I wasn't sure why I chose some pieces but it became clear by the end. I had to trust the process, that I had chosen enough, but that I had space and it would all fall into place.
I noticed the underside (option: choose images and stick upside down for interesting reveal).
What did I leave out – 'expert how-to'. What did I rearrange – a model, using the feet, head and patterns separately.
Once finished I noticed themes emerge; light to the deep home, the quest and adventure for new experiences, nature describing growth. I also arranged the collage in a timeline; past, present future. I was heading home to the future. A head above, the watcher.
It didn't make sense to me to reduce this rich picture to a list of 5 top value words. Instead I have this to refer to, asking myself "does this action fit within this picture?"
This activity is something I can redo to see if my values shift over time.
CONCLUSION
I am quite happy with this picture as a collection of my values. It has more depth than a list of value words, it's more personal. I can still use this to evaluate my decisions.
It has been a few months now since I created the collage and I've noticed that I've turned some of the images into reality. The travel theme is strong, I recently returned from a European holiday including visiting Santorini – the picture in the top right corner. I didn't consciously use the values collage to book my trip but it was stuck on my wall, I wonder if that influenced me?
Try this for yourself and share your insights here.
Try this for yourself and share your insights.
Reflect
Do you have a list of top values, do they reflect you well?
Do your values come from a place of 'should' or authenticity?
How does it feel when you are aligned with your values?
Do you bring your values into everyday decisions?
Can you display your values as part of your branding/identity (personal or business)? Are you known for your values?